About Us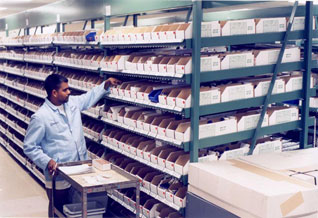 Charles Kennerly & Co., Inc. was formed in 1974 by Charles Kennerly offering sales and installation of material handling and storage systems. Chuck Krohn joined the company in 1987 and purchased the company in 1998.
In 2006, Ken Greenslet merged his company, Direct Material Handling, into the Charles Kennerly & Co., Inc. and became an equal owner. The merger allowed the company to begin offering pre-owned material handling equipment for sale. The Company began operating as Kennerly-Direct Material Handling (KDMH) and moved to its present Office/Warehouse space located at 6218 Frankford Avenue, Baltimore, MD. KDMH also provides full design and layout with CAD capability of storage systems.
In 2009, the company formed a Systems Division to offer integrated material handling systems to include conveying systems, sortation systems, checkweighing, ABOT's and related systems. The company was able to become the representative for Cornerstone Automation (CASI) for the Mid-Atlantic region. Dave Born was hired to become the Systems Division Director. Dave brings over twenty-five years experience in this field.
The company's GOAL has always been and remains to provide Quality Products and Services to meet the requirements of the CUSTOMER in a Highly Professional and Consultative process at a REASONABLE and COMPETITIVE PRICE.
Markets served
Food and Beverage
Heavy and Light Manufacturing
Traditional Warehousing
Distribution Centers
Third Party Logisitics (3PL)
Direct Marketing and Catalog
Apparel and Textiles
Pharmaceuticals
Printing & Publishing
Furniture
Electronics
Automotive
Defense Contractors
Federal and State Governments
GSA Product Customers